Palm Beach Condominiums… Barbados

PALM BEACH CONDOMINIUMS are situated on the pristine St. James beach; an 80 metre walk along the beach, south of Discovery Bay Hotel in the SUNSET CREST AND HOLETOWN area on BARBADOS' beautiful 'platinum' west coast.

Tropical gardens
NO.3 PALM BEACH is one of 14 individually privately owned Condos.
This elegant, modern, upper floor condo with mahogany colour cathedral ceilings is tastefully furnished and high standards of decoration and cleanliness prevail.

Panoramic view of spectacular St. James Beach, from Palm Beach Condominiums

View of patio from garden View from one end of patio
The comfortable, spacious lounge/dining room has a couch that can be converted to a single bed. This room benefits from direct access to the dressing room and bathroom.
Other facilities include ceiling fans in every room including patio, multichoice televisions, CD player/radio, broadband Internet and a telephone for local calls, which are free. To make a long distance and/or overseas phone call, a credit/debit card is necessary.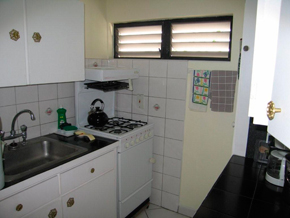 The kitchen is well equipped and includes an oven and hob, microwave, large fridge/freezer; iron and ironing board. Toaster, coffee percolator, kettle, pots, cutlery, dishes, stemware.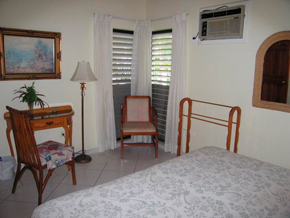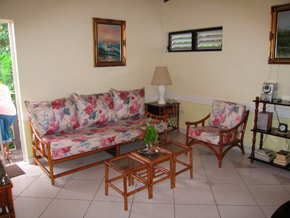 The large airconditioned bedroom offers a king size or twin beds.
Mrs. Patricia Bland who lives in one of the condominiums will meet and greet you upon arrival at Palm Beach and will be happy to answer any questions you may have regarding your stay in Barbados.
Restaurants/Entertainment
Located in 1st and 2nd Streets, Holetown, five minutes leisurely stroll from Palm Beach there are 11 restaurants to suit all tastes and budgets; local and international gourmet, simple fare and curb side kiosks.
Sophisticated and local Jazz/Night Clubs/bars.
In the centre of Holetown a monument was erected on the spot where the first British settlers landed in 1627; it is just a 5 minute walk from Palm Beach.
Shopping
There is also an airconditioned shopping mall with duty free shops, boutiques, cyber café, tea garden, restaurant, deli supermarket, bakery and fitness club.
Medical/Transportation
Banks, Post Office, library, doctors office, medical facility, pharmacy, taxi and rental car kiosk, all within a 5 to 8 minute stroll.
Government/Public Transportation
Buses can be boarded in Holetown Center opposite the Mall or Monument. Drop off upon return, same area.
Airport - 40 mins.
Seaport and Bridgetown - 20 minutes.
OPTIONAL EXTRAS
Arrangements can be made for transportation from and to the Airport/Seaport.
A welcome pack of groceries can be ordered to your specification and delivered to Palm Beach prior to your arrival. You will be required to pay for the goods after you are settled.
Your housekeeper will happily provide an inexpensive laundry service should you require it.
To see another great property in the St. James Beach area, click here.